NICKOLAY L. MOROZOV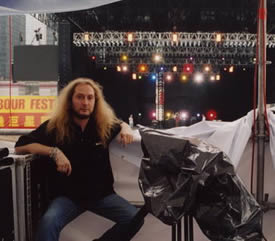 I was born in 1967.
In 1987 was graduated from the Moscow Theatre Art-technical College specializing in "theatre lighting".
While being a student I had practice in the LENKOM Theatre and got my diploma at the SOVIET ARMY Theatre.
Upon graduation from the Art-technicai College I worked for 3 months on Russian TV.
After the military service joined the Moscow Palace Youth for the position of a "light designer" where started to develop my profession. As a light designer I took part in different concerts, disco-parties, performances, TV shows held by the Moscow Palace of Youth.
In 1997 I was invited by the Rock Stage Company which deals with renting and selling of light and stage equipment, installation of equipment for discos, concert halls, took part in the concerts production, staging of the show programs, TV shows.
From that moment I was totally integrated into the world of show business.
From 2003 I started to work independently.
As a light designer I took part in the production and light designing for the famous Russian rock groups such as: "Kipelov", "Chaif", "DDT","TATU" , as well as for other Russian and foreign famous groups, biggest Russian open-air festival "Nashestvie", "Maxidrom" and many other projects.
Had a large experience working abroad, in particular in USA(Las Vegas),European countries,Japan.
At the moment I am cooperating closely with LIGHTMASTER, LIVE SOUND AGENCY, RENTAL CAPITAL and many other Russian companies specializing in light and sound.